Thanksgiving is a time to gather together, express gratitude, and indulge in a delicious meal with your loved ones. As you start to plan your menu, let mushrooms be the secret ingredient that takes your Thanksgiving feast to the next level and satisfies any diet.
The versatility of mushrooms in Thanksgiving dishes goes beyond their ability to enhance dishes; they can adapt to any diet. They are the ideal choice for plant-based guests or even those seeking a nutrient-rich alternative. Whether you're crafting a vegetarian fest or looking to add a bonus nutritional boost to your holiday dishes, mushrooms can do just that! There are so many ways to incorporate mushrooms into your holiday dishes. The earthy flavors of mushrooms can transform a stuffing, gravy, or even turkey. They can add depth and moisture to these traditional dishes, ensuring a perfect balance of textures.
We've put together some Thanksgiving dishes with the umami-packed flavors of mushrooms to leave you inspired as you plan your holiday menu.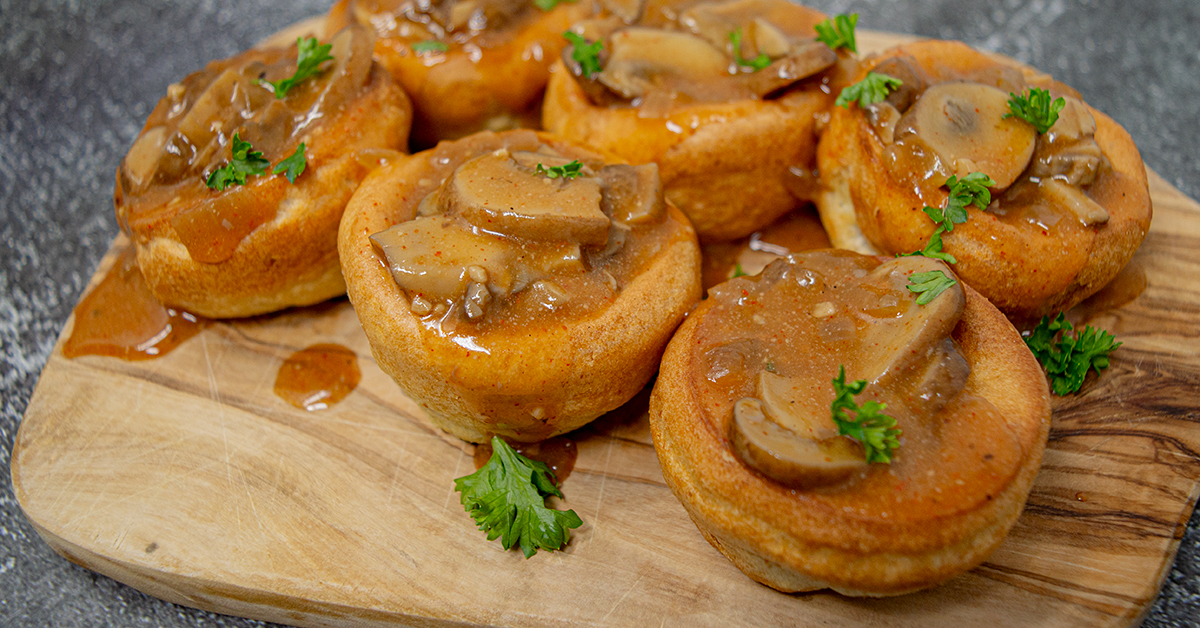 MUSHROOM YORKSHIRE PUDDING
Put a twist on a classic favorite with Mushroom Yorkshire Puddings. Made with a deliciously rich Highline Mini Bella gravy, these puddings are easy to make and perfect for entertaining. The mushroom gravy adds an extra layer of flavor to this comforting dish.
VEGAN MUSHROOM GRAVY
Give any Thanksgiving dish a gourmet touch with this Vegan Mushroom Gravy made with Highline Mini Bella Mushrooms. Even though it is completely plant-based, this gravy doesn't compromise on flavor. Even meat lovers won't be able to taste the difference, making it a versatile and delicious addition to your Thanksgiving table. Mushrooms take this gravy to new heights with an umami boost that compliments the traditional gravy flavor and enhances the richness. Pour it over mashed potatoes, or any of your favorite Thanksgiving dishes.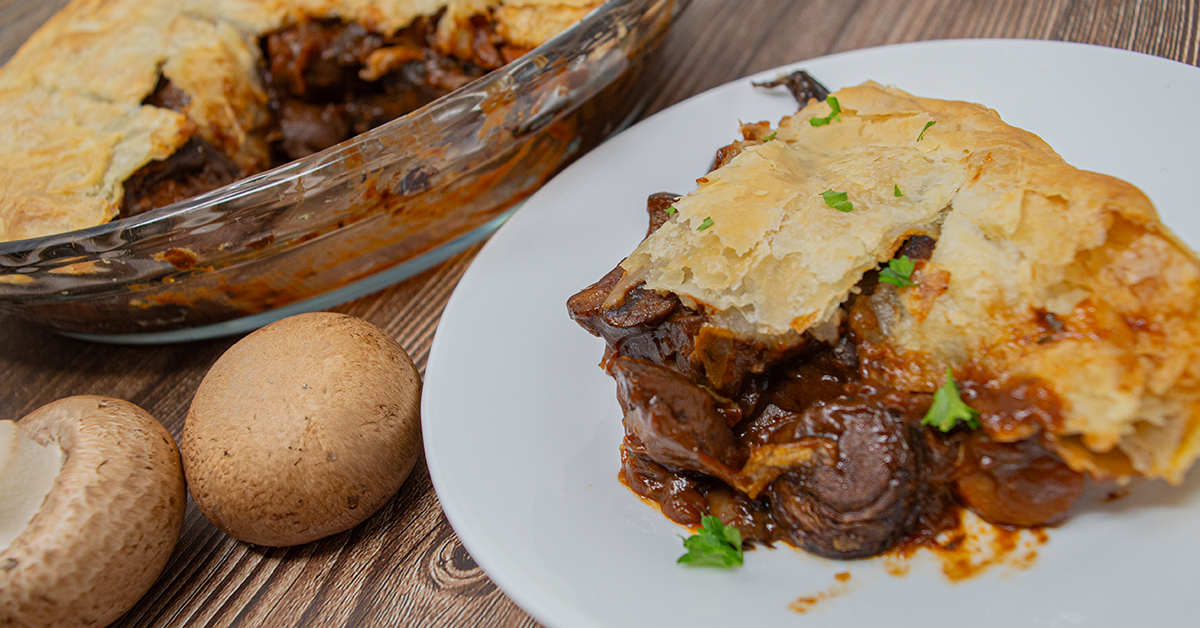 VEGAN MUSHROOM POT PIE
This Vegan Mushroom Pot Pie featuring Highline Portabella and Mini Bella Mushrooms is a showstopper for a completely plant-based Thanksgiving main dish. The mushrooms are simmered into a red wine mushroom stew infused with garlic and thyme, creating a savory filling. It is all topped with a golden puff pastry. This pot pie is a flavorful centerpiece that will satisfy both vegans and meat lovers for your holiday table.
STUFFED PEAR MUSHROOMS WITH HONEY WALNUT GLAZE
Cap off your Thanksgiving feast with a gourmet low-carb dessert—Stuffed Pear Mushrooms with Honey Walnut Glaze. This dish is the perfect blend of savory and sweet as these Highline White Flat Mushrooms are generously filled with brie cheese, and cinnamon pears, and drizzled with a Honey Walnut Glaze. This unique dessert will leave your guests both impressed and satisfied.
THE MOST VERSATILE THANKSGIVING INGREDIENT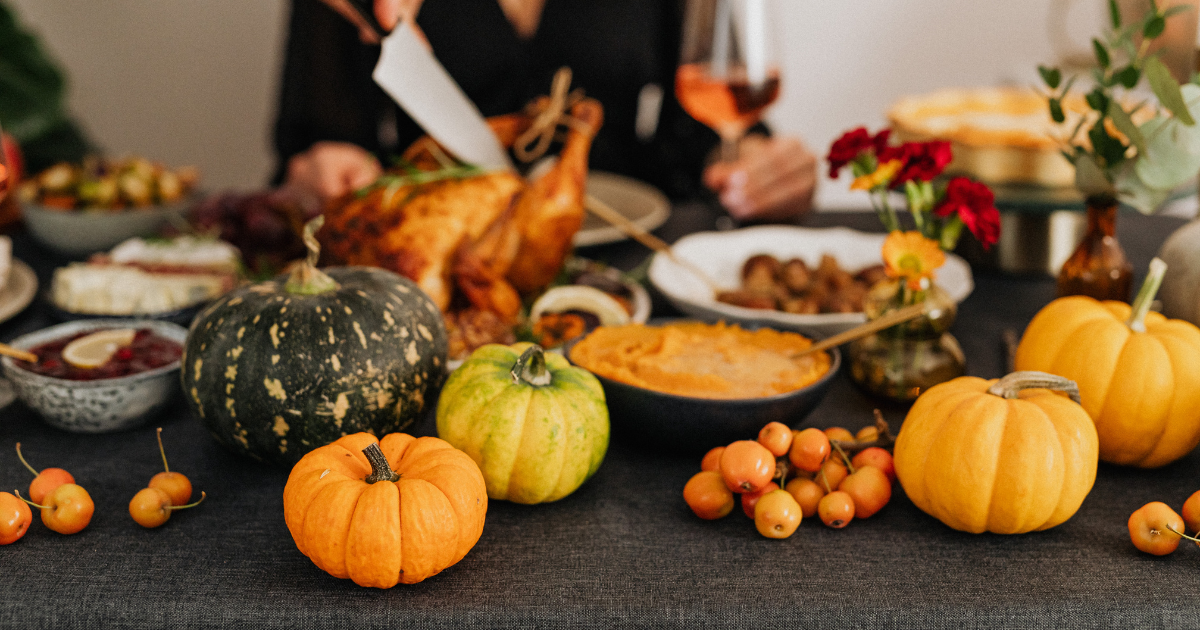 As you begin your grocery list for this Thanksgiving, mushrooms can be the ingredient that transforms all your dishes and brings everyone together! From accommodating plant-based preferences to offering a nutritional boost, mushrooms emerge as the versatile ingredient that enhances the Thanksgiving experience. Whether you opt for the Vegan Mushroom Pot Pie, Vegan Mushroom Gravy, the vegetarian twist of Mushroom Yorkshire Puddings, or the unique dessert of Stuffed Pear Mushrooms, these recipes will make your table a feast for both the eyes and taste buds.
The inclusion of mushrooms will make your Thanksgiving celebration complete. Give a new Highline recipe a try and your feast is destined to satisfy all the senses and be packed with flavor! As you gather with loved ones to express gratitude, these dishes are sure to please every palate around the table.
For more recipe inspiration, click here.